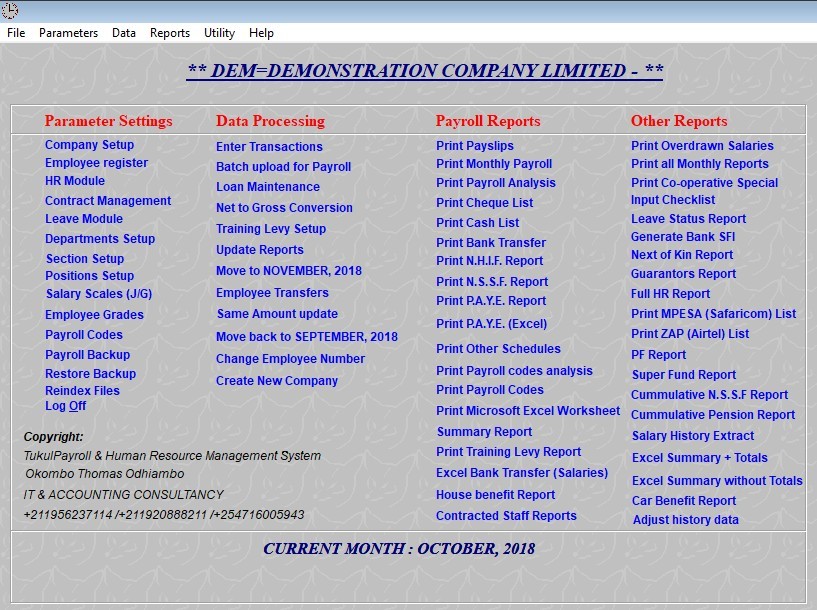 Summary
Tukul Payroll is designed to help human resource staffs to efficiently manage their workload .To keep track of all
employees' details and transactions affecting their accounts.
Internal IT Expertise Required
All that is required is strong computer skills with formal responsibility to set up and enforce MIS policies (such as backup, user rights set up ) For multi-branch installations, the IT assistants at the branch will need to be supervised by a corporate MIS manager who can set-up MIS policies, provide support and manage the corporate database.
User Feedback
Most users surveyed reports the system has helped their organization, regard it as largely reliable and credit IT & Accounting Consultancy for being responsive.
Functionality
It handles several deductions and payments products concurrently. The user may define the deductions on their own
Frequently asked questions
1. How much training is needed to work with Tukul Payroll Management System?
Tukul Payroll is very user friendly. The main structure is very logical so that you can easily find something you wish to locate
.In general people, who are familiar with the computers operations, can find their way in the program. It will take four days to lead you through the system and two days to get you off and running on your own data.
2. How many standard reports comes with Tukul Payroll?
There are several reports that come with Tukul Payroll. Most reports are printed on A4 paper size. This reporting feature is one of the strong capabilities of Tukul Payroll… All reports have print variables like flexible date or payroll period; specify the employee or all the employees.
All reports have the company name and possibly logo as well as the date and the time that the report was printed.
Good Reasons to Choose Tukul Payroll
1. Frequent updates
Tukul Payroll offers you the guarantee of reliable software that will never become obsolete and can be upgraded to fit your changing needs and suggestions. The best value for money on the market!
2. User friendly
Tukul Payroll gives users all the tools they need in an easy- to-use interface. The training is very fast even for users with little computer experience. Working with Tukul Payroll is really easy thanks to its user-friendly interface based on icons representing the various functions. So simple yet so powerful!
3. Reliable
Tukul Payroll is known for its dependability. Whether installed on a single workstation or on several workstations connected via a LAN or WIFI 802.11x network, your data is totally safe.
9
4. So easy to learn
Installing and configuring Tukul Payroll software is a snap, requiring no special skills. Tukul Payroll is designed to minimize the staff training effort.
5. A powerful, open software program
Tukul Payroll is written in Visual FoxPro language, a powerful computer language known for its high export and dialog capacities. This enables you to connect it to many different types of software applications or systems (including Human Resource Management and Accounting software programs, as well as databases).
Tukul Payroll is multi-platform and compatible with almost all hardware on the market (touch-screen and standard systems alike).
6. 100 % geared to any business
Tukul Payroll packs all of the features required for optimal payroll management. Tukul Payroll system can easily be scaled to your business, whatever your needs.
7. Nationally Acclaimed
Tukul Payroll user satisfaction rate is nearly 100%.
8. Easy to set up –Parameter driven
Tukul Payroll incorporates the ability to set up individual security profiles, thereby allowing / disallowing each user access to Menu functions or editing capabilities depending upon their clearance. It is a simple process for the system administrator to set up. There are a number of Parameters that must be setup to reflect how you wish to work- Set up the following on your own:
9. Easy to export reports
It includes several reports with almost three quarters related to loan portfolio management. Most reports offer detail (with each transaction) or summary (totals or sub-totals only) view.
There is a zoom option for onscreen viewing. There will be a default printer type with the possibility of choosing another printer. The paper size must be A4 but you may also choose.
Tukul Payroll contains an employee profiling facility allowing the user to capture valuable employee information
.The information collected through the system is vital to providing sophisticated vet reports and others.
DESCRIPTION OF THE TUKUL PAYROLL SYSTEM AND SOME OF ITS FEATURES
The payroll system has been designed to run on windows and Novell Netware. All statutory calculations are automatically calculated by the computer and annual returns of Income Tax are prepared in the required format. The payroll system prints with Optional Section, Department and branch totals where applicable.
MAIN FEATURES
Customized for local currency (South Sudan Pound) and United States Currency and much more.

Provides Control totals for audit trail before update.

Contracts Management

Checks old value on changes.

Allows tax history changes.

Advance payment automatic recovery.

Calculates company house value for taxation.

Reduces housing value by rent paid by staff.

Calculates interest on outstanding loan balances.

Recovers loans and creates new C/F balances.

Tax Exemption

Non-cash benefits e.g. motor vehicle

Recovers savings contributions and updates C/F balances, e.g. for Co-operative societies.

Round off net payment.

Carries forward overdrawn amounts.

Automatic overdrawn recovery.

Restricts overtime payment to a maximum amount.

Allows specific calculation of tax.

Allows benefits history changes.

Provides deduction scheme for Union Dues, Provident Fund / Pension (8% or 17% or any percentage), Medical etc.

Caters for mid-month payments.

Provides for service charge calculation for hotels.

Gratuity calculation.

Provides for printing on payslips information: Loan or savings balances, Overtime hours paid, Normal/Leave/Sick/Injured days paid, Employees ID No./Pin No, Pension Contributions etc.

Provides payroll to General Ledger conversion interface.

Caters for branch department and section totals.

Caters for multi-branch companies.

Can pay by number of hours @ given rates.

Calculates Interest on loans benefit.

Provides annual analysis of benefits by category e.g. car, servant, etc.

Reduces liable pay by PF contributions to registered schemes.

Updates to date Leave Balance Carried forward.

Updates Sick Leave Taken to date per annum.

Provides interface with banking system for automatic credit of salaries.

Can provide interface with personnel/human resources (HR) database.

Allows a maximum of 99 user defined loan codes.

Provides ad-hoc payment/deduction analysis reports.
MONTHLY REPORTS
a) Checklists of changes with column totals for control checking. b) Report of variations of regular payments and deductions.
c) Cash payment list and coinage analysis. d) Cheque payment list.
e) Bank payment lists and credit advices. f) Payslips.
g) Payroll print (file copy).
h) Code Analysis lists e.g. PIT, Loans, Savings, Union Dues, etc.
l) Main payroll report.
m) Council service charge list and stamp analysis. n) Sticky labels.
o) Control list.
Our Contact
Tel:+211920888211,+211917315941
WhattApp Group:Payroll,Accts & Pos-IAC