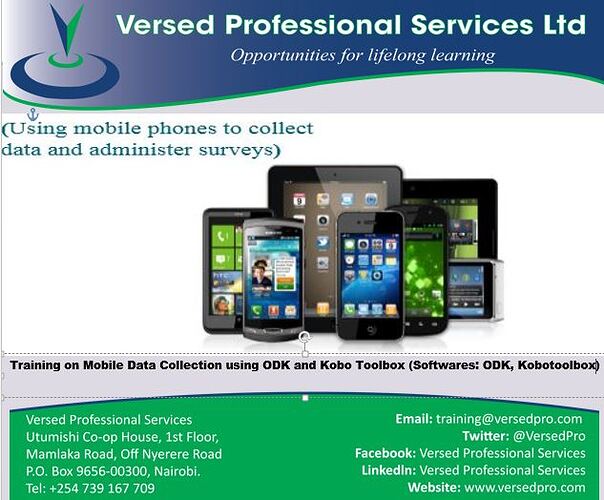 INTRODUCTION
The exercise of data collection remains indispensable in capturing quality evidence that then translates to rich data analysis and allows the building of a convincing and credible answer to questions that have been posed. With different organizations, professional, Programmes and projects collecting data regularly to evaluate and monitor progress and performance, best practices of data collection are more needed than ever to ensure that data gathered are both defined and accurate and that subsequent decisions based on arguments embodied in the findings are valid. Mobile Phone Based Data Collection using ODK and Kobo Toolbox has been acknowledged worldwide by researchers, non-governmental organizations, relief agencies and health ministries among other organization as very useful and convenient data collection method substituting paper-based data collection method. This training will give the participant the ability to put in place all the pieces required for a mobile data collection system.
COURSE OBJECTIVES
The training is aimed at introducing and equipping participants with skills in;
Designing & building a form using ODK Build
Uploading the form to aggregate & send to Android phone
Setting up aggregate server
Mobile data collection using ODK and Kobo Toolbox
Submitting completed data to aggregate server
Exporting data from ODK aggregate as CSV
Importing ODK - CSV file into statistical applications
Exporting GPS data for Mapping/Visualizing (fusion map)
KEY TAKEAWAYS
Module I : Introduction to the course
Module II : Introduction to Survey Authoring/Digitization
Module III: Designing forms manually: Using XLS Forms
Module IV : Survey Data Hosting
Module V (GIS) : Spatial Mapping
HOW TO REGISTER ONLINE
To register online to book your spot, click on this link Online Registration Form
CUSTOMIZED TRAINING
This training can also be customized for your institution upon request. You can have it delivered your preferred location.
For further inquiries, please contact us on the details below:
Tel: +254 (0) 739167709.
Email: [email protected]
Office Location: Utumishi Co-op Hse, Mamlaka rd, Off Nyerere Rd, Nairobi