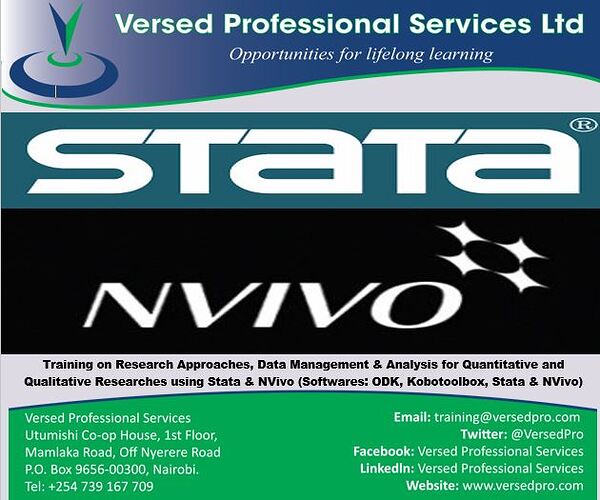 INTRODUCTION
This training seeks to enhance the skills of participants using both qualitative and quantitative research approaches in undertaking their researches, projects programs, feasibility studies among others. The training will cover ways to undertaking research with particular attention to collecting and analyzing both qualitative and quantitative data; the use of Information Technology for data collection (mobile Based Data Collection using ODK), data management analysis and interpretation of empirical results.
WHO SHOULD ATTEND?
This is a general training targeting participants wishing to analyze both quantitative and rich messy qualitative data. The participants can be from Social, Agriculture, Economics, Food Security and Livelihoods, Nutrition, Education, Medical or public health professionals among others who wish to be conversant with the concepts and applications of STATA and NVivo Softwares No prior Knowledge is required.
DURATION
10 days
TRAINING OBJECTIVES
The training will enable participants to;
Understand the basics of data cleaning
Understand how to import and export data, input data into Stata
General use and data management using Stata.
Managing output management in Stata
Understanding how to generate simple and advanced graphics using Stata
Analyzing quantitative data using both descriptive and commonly used inferential analysis techniques
Explore the function of NVivo
Create a project
Undertake deductive and inductive qualitative data coding using NVivo
Manage project material
TOPICS TO BE COVERED
Module 1: Introduction/Recap to qualitative and quantitative research and Statistical Concepts
Module 2: Introduction to Mobile Phone-Based Data Collection Using ODK and Mapping Training
Module 3: Data Entry, Management, and Manipulation using Stata
Module 4: Output management
Module 5: Stata Graphics
Module 6: Quantitative data analysis (Inferential analysis techniques) using Stata and Reporting
Module 7: Getting Started with NVivo
Module 8: Working with Codes and Nodes
Module 9: Summarizing the Data
Module 10: Visualizing project
HOW TO REGISTER ONLINE
To register online to book your spot, click on this link Online Registration Form
CUSTOMIZED TRAINING
This training can also be customized for your institution upon request. You can have it delivered your preferred location.
For further inquiries, please contact us on the details below:
Tel: +254 (0) 739167709.
Email: [email protected]
Office Location: Utumishi Co-op Hse, Mamlaka rd, Off Nyerere Rd, Nairobi