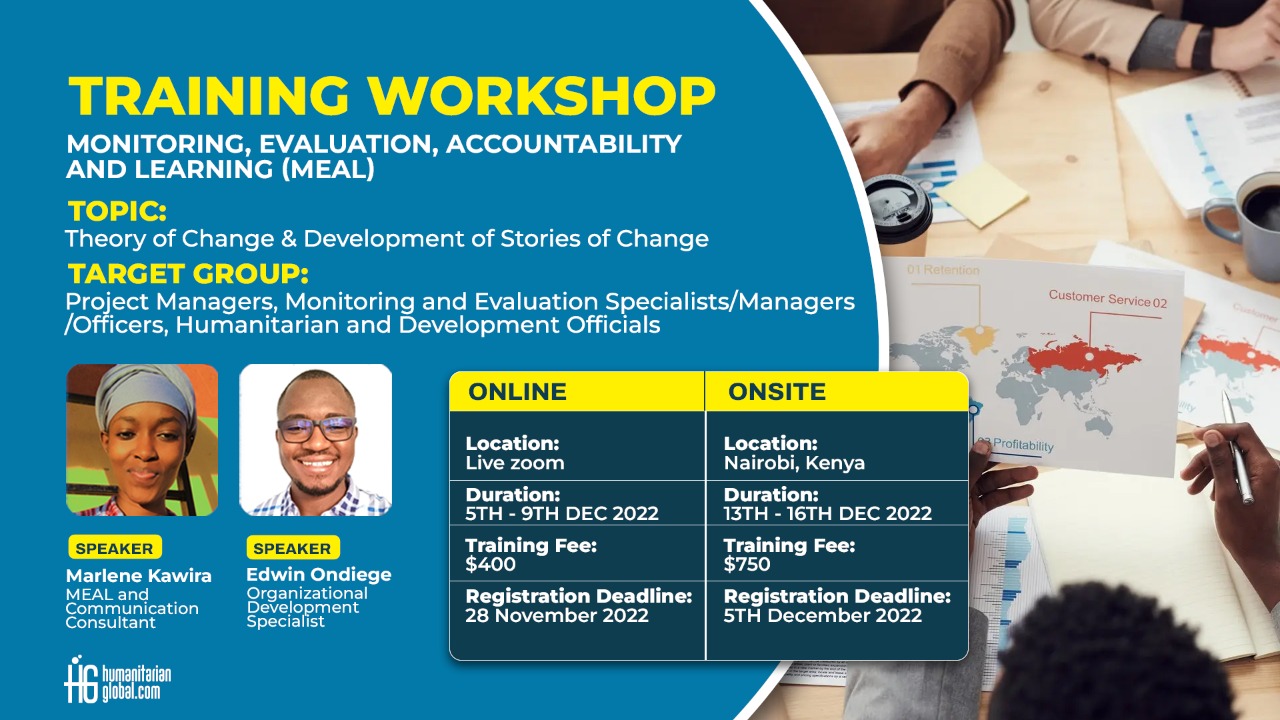 Onsite
Dates: 13th to 16th Dec 2022
Duration: 4 Days
Venue: Meridian Hotel, Nairobi, Kenya
Training Fee: $750
NB: The training fee only covers training costs (breakfast, snacks & lunch, learning materials and Digital Badges- Verifiable digital certificate). We can however organize accommodation for you upon request at your own cost.
Registration Deadline: 5th Dec 2022
Online
Dates: 5th to 9th Dec 2022
Duration: 5 Days
Venue: Online (Zoom)
Training Fee: $350
Registration Deadline: 28th Nov 2022
1. Training Description
The Theory of Change logic model offers organizations a framework upon which organizational culture of critical reflection, action learning, co-creation with stakeholders and continuous assessment of what works, why, for whom and under what circumstances is founded.
This training course will provide participants with the practical skillsets required in the development of a comprehensive Theory of Change and Impact stories.
2. Course Objectives
Participants will gain an understanding of the practical application of the ToC Logic Model in developing project interventions and strategic planning processes
Participants will have an improved understanding of how the theory of change can be employed for learning and accountability
Participants will be able to critique ToC case examples and develop their own theory of change at the end of the course Coverage/Content
3. Training Schedule
Day 1 Introduction to the Theory of Change
Theory of change components
The Dos and Don'ts of The Theory of change
Things to Consider when creating a Theory of change
Understanding the Relationship between the Theory of change and other Logic Models (Logframe, M&E framework, Results Framework)
Familiarisation with the Virtual Project Set Up
Day 2 Creating the Theory of Change
Recap on the previous day
Analysing the virtual set-up
Identifying needs and stakeholders within the virtual set-up
Identifying components of the Theory of Change and grouping them
Identifying pathways of change, risks and assumptions
Developing mitigative actions to help tackle risks and assumptions
Coming up with a functional Theory of Change
Day 3 Relating the Theory of change to other logic models and programming aspects
Recap on the previous day
Identifying short-term, mid-term and long-term impacts from the Theory of Change to relate it to and create the Result Framework
Identifying components from the Theory of Change to relate it to and create the Logical framework and M&E framework/PMP
Identifying components to monitor and develop stories of change
Day 4 Impact stories/Stories of Change
Recap on the previous day
Identifying components from the Theory of Change to monitor over time to create impact stories
Things to include in impact stories
Things to consider in telling stories of change e.g Consent
How to include stakeholders in developing the stories of Change
How to tell dignified stories of change
How to package stories of change
Certification
Participants will be issued a certificate and a HPass Digital Badge after successfully completing the training.
To apply, You may also write us an email via [email protected]
Academic Registrar.
Humanitarian Global (HG)
||Valley View Park||Parklands||Nairobi|| Kenya.
Phone No: +254 796 665 105 || +254 758 360 298
Email: [email protected]
Website: www.humanitarianglobal.com