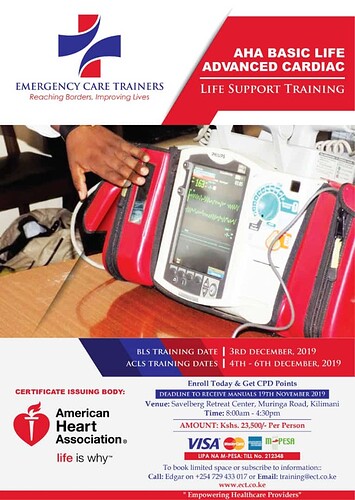 Dear Colleague,
Have you always wanted to learn how to handle emergency care situations?
We take this opportunity to invite you to our upcoming 1-day training course in Basic Life Support (BLS) in Nairobi Kenya.
Basic life support (BLS) is a level of medical care which is used for victims of life-threatening illnesses or injuries until they can be given full medical care at a hospital.
Upon completion of the course, you will be able to able to identify an emergency, provide first aid and provide effective cardiopulmonary resuscitation in case of an arrest.
ACCREDITATION
Upon successful completion of this training, participants will be issued with an internationally recognized certificate directly from The American Heart Association (AHA) , which is valid to 2 years.
EVENT DETAILS
Course Name: Basic Life Support (BLS)
Venue: Savelberg Retreat Centre, Nairobi, Kenya.
Event Date: 3rd December 2019.
Course Fee: KES 7,500.00 or USD 75.
WHO WE ARE?
Emergency Care Trainers was founded and established to provide emergency health education and training to all healthcare providers and the general public. We provide a platform through which participants acquire the necessary skills required to save lives. Our emergency short courses aim at providing science-based treatment that are within the international guidelines. We have trained over 3,000 healthcare professionals in various emergency care short courses. We strictly follow the guidelines under The American Heart Association (AHA), The National Association of Emergency Medical Technicians (NAEMT) and International Liaison Committee on Resuscitation (ILCOR).
WHO NEEDS BASIC LIFE SUPPORT (BLS) TRAINING?
This training course is suitable for anyone interested in learning how to handle emergency care situations.
DURATION
1 Day.
COURSE OBJECTIVES
At the end of the course, you will become familiar with the following;
Perform high quality CPR for adults, children and infants,
Supported breathing and circulation without the use of equipment other than a protective device.
Use of an Automated External Defibrillator (shockable rhythm)
Importance of teams in multirescuer resuscitation and performance as an effective team member during multirescuer CPR
Relief of foreign-body airway obstruction (choking) for adults, children and infants
Maintaining airway patency.
TOPICS TO BE COVERED
Adult BLS / Practical
Child BLS / Practical
Infant BLS / Practical
FBAO (Choking)
Special circumstances
Medical legal issues
METHODOLOGY
This instructor-led training course is delivered using a blended learning approach and comprises of presentations, guided sessions of practical exercise, web-based tutorials and group work. Our facilitators are seasoned industry experts with years of experience, working as professional and trainers in these fields.
All facilitation and course materials will be offered in English. The participants should be reasonably proficient in English.
TRAINING FEE
The course fee is KES 7,500.00 or USD 75 . It covers the course tuition, training materials, one (1) break refreshments, lunch and certification which is issued immediately after the training. Participants will cater for their travel, accommodation, and airport transfer costs.
OTHER COURSES WE OFFER INCLUDE;
FOLLOW US ON OUR SOCIAL MEDIA PLATFORMS
CONTACT INFORMATION
Tel: +254721422017 / +254729433017
Email: [email protected] / [email protected]
Website: ect.co.ke
Warm Regards,
Zakaria N. Kinyanjui.
Digital Marketing Executive,
Emergrncy Care Trainers - ECT.