Dear All,
Indepth Research Services would like to invite you to take part in our upcoming trainings Advanced Communication Skills Course.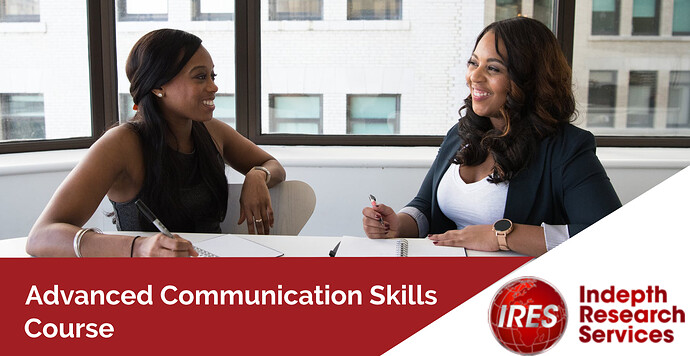 Leaders today are expected to have a wide range of skills – technical, operational and relational. Leading people – the relational side of management is as important as task-based skills. Communication is the critical competency that underpins relationships, both for keeping team members up-to-date and for winning the support of key stakeholders. This highly interactive IRES training course focuses on developing the communication competencies that allow the participants to lead and motivate others. The training course helps leaders become great communicators who know how to win respect, understanding and commitment.
WHO SHOULD ATTEND
The Advanced Communication Skills training course is suitable for a wide range of professionals in both public & private sector institutions, but will be particularly beneficial to:
People who supervise others and wish to improve their communication skills.
People who lead teams and wish to do so more effectively.
People who have been identified as having potential for leadership roles .
Executives who want to develop capabilities in motivating and inspiring people.
COURSE OBJECTIVES
IRES's Advanced Communication Skills training course aims to enable participants to build high achieving teams where people feel valued by:
Showing they are listening to and respecting others.
Clarifying objectives and expectations and providing support as individuals seek to attain them.
Developing a collaborative team culture where people work together to achieve goals and overcome challenges.
Ensuring everyone contributes to discussions and all points of view are heard before making decisions that are then supported by the team.
Using presentations to win recognition for team achievements and support for goals.
Click on Apply Now to Register
Nairobi, Kenya 17-02-2020 21-02-2020 Apply Now
Nairobi, Kenya 18-05-2020 22-05-2020 Apply Now
Nairobi, Kenya 17-08-2020 21-08-2020 Apply Now
Nairobi, Kenya 16-11-2020 20-11-2020 Apply Now
For any enquiries, feel free to engage us at [email protected] or contact us on (+254) 715 077 817 or +250 789 621 067
Best Regards