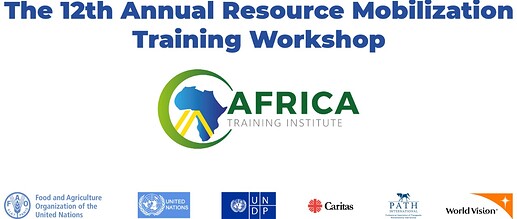 Dear Partners,
The 12th Annual Resource Mobilization Training Workshop
Africa Training Institute is pleased to announce the 12th Annual Resource Mobilization Training workshop in the Month of December, in Nairobi Kenya.
This Year's Theme is: Mobilizing Funds in Challenging Times!
Dates: 8th – 10th December 2021.
Venue : Radisson Blue, Nairobi Kenya.
The 12th Annual Africa Resource Mobilization Workshop is intended for those with the task to mobilize resources but have been experiencing difficulties especially following the Covid-19 Pandemic.
The Workshop will be moderated by highly seasoned fundraising experts, who will run you through 10 captivating workshop sessions. The forum will encourage increased networking among fundraisers while adhering to covid-19 guidelines and protocol's, whilst allowing you the opportunity to meet and exchange experiences, issues, and opportunities…
The forum will include a variety of activities that will provide you with an unforgettable experience.
Program Content
• Project Planning and Design Using log frames
• Concepts used in Proposal writing and Resource Mobilization
• Proposal Writing components. (Proposal writing drills)
• Understanding why some proposals don't get funded
• Online Resource Mobilization
• Developing a Fund-Raising Strategy for your Organization
• Mastering the fund-raising environment
To Confirm your Participation, please click on the following link and fill out the details,
Alternatively, you can email us directly using the details below,
Ms. Samira Ali
Workshop rapporteur
12th Africa Fundraising Workshop
Email : [email protected]
Phone Contacts +254 723 30 5358, +254-716-875-205
Website: www:africatraininginstitute.org