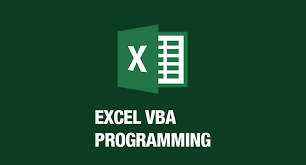 Event: Introduction to VBA Programming Course
NITA CERTIFIED
INTRODUCTION
Visual Basic for Application (VBA) is an object oriented programming language developed by Microsoft. VBA language has been integrated with Excel in order to have programming features which enables the developers to handle the data manipulation along with Excel function very easily. VBA is good for developing reporting systems in a capital markets environment and developing core business performance reporting etc.
Using a step-by-step approach, this course shows how the Visual Basic for Applications (VBA) programming language can extend the functionality of Excel. Students will learn to write macros to accept user input, read to and write from cells, and manipulate data. They will also learn to write custom functions and create user forms. Useful examples of problems and their solutions will be provided.
DURATION
5 days.
WHO SHOULD ATTEND
This advanced training course is ideal for:
• People wanting to use more complex functions within Excel.
• All persons using Excel spreadsheets in an advanced way and wish to extend Excel functionality and automate tasks.
• All persons involved in spreadsheet work where significant automation is required.
Participants will need to have attended or be familiar with the basics of Microsoft Excel.
COURSE OBJECTIVES
Upon completion of this training course, participants should be able to:
• Record and run macros
• Understand and apply object-oriented concepts
• Understand events in Excel
• Be acquainted with the most important Excel VBA objects and properties
• Understand Excel VBA functions and write their own functions
• Use the Visual Basic environment to code and edit complex programs
Visit our website for more details.
Tailor-Made Training
This training can also be customized for your institution upon request to a minimum of 4 participants. You can have it delivered in our training centre or at a convenient location.
How to participate
Tailor makes your course.
Register as individual.
Register as a group.
Become one of our partners.
Purchase software's
View related courses
• Mobile Phone Based Data Collection Using ODK…
• ICT for Disaster Response…
• Microsoft Excel for Health Care Professionals…
• M & E, Data Management & Analysis for Agriculture & Rural Development Programmes.
• Microsoft Excel for Agriculture Professionals…
The most popular courses
• Digital marketing (Email & Social Media) and Brand Online Visibility…
• Establishing and strengthening farmer organizations…
• Advanced Training on Fire Safety and Fighting Marshal…
• How to Influence Decision Makers to Take up Research…
• Proposal Preparation Using the Logical Framework Approach…
• Mainstreaming Disaster Risk Reduction into National Development Process…
• GIS Analysis for WASH Programmes…
• Strategic Financial Management…
View course catalogue on ICT4D and mobile technologies Institute.
For further inquiries, please contact us on Tel: +254 715 077 817, +254 (020) 211 3814, +254 731240802, +254 735331020.
Email [email protected]